Business conferences are essential for communication, collaboration, and innovation in any organization. However, holding a successful business conference can be challenging, especially when the participants are located in different places and time zones. That's why many businesses rely on video conferencing software to conduct their meetings online.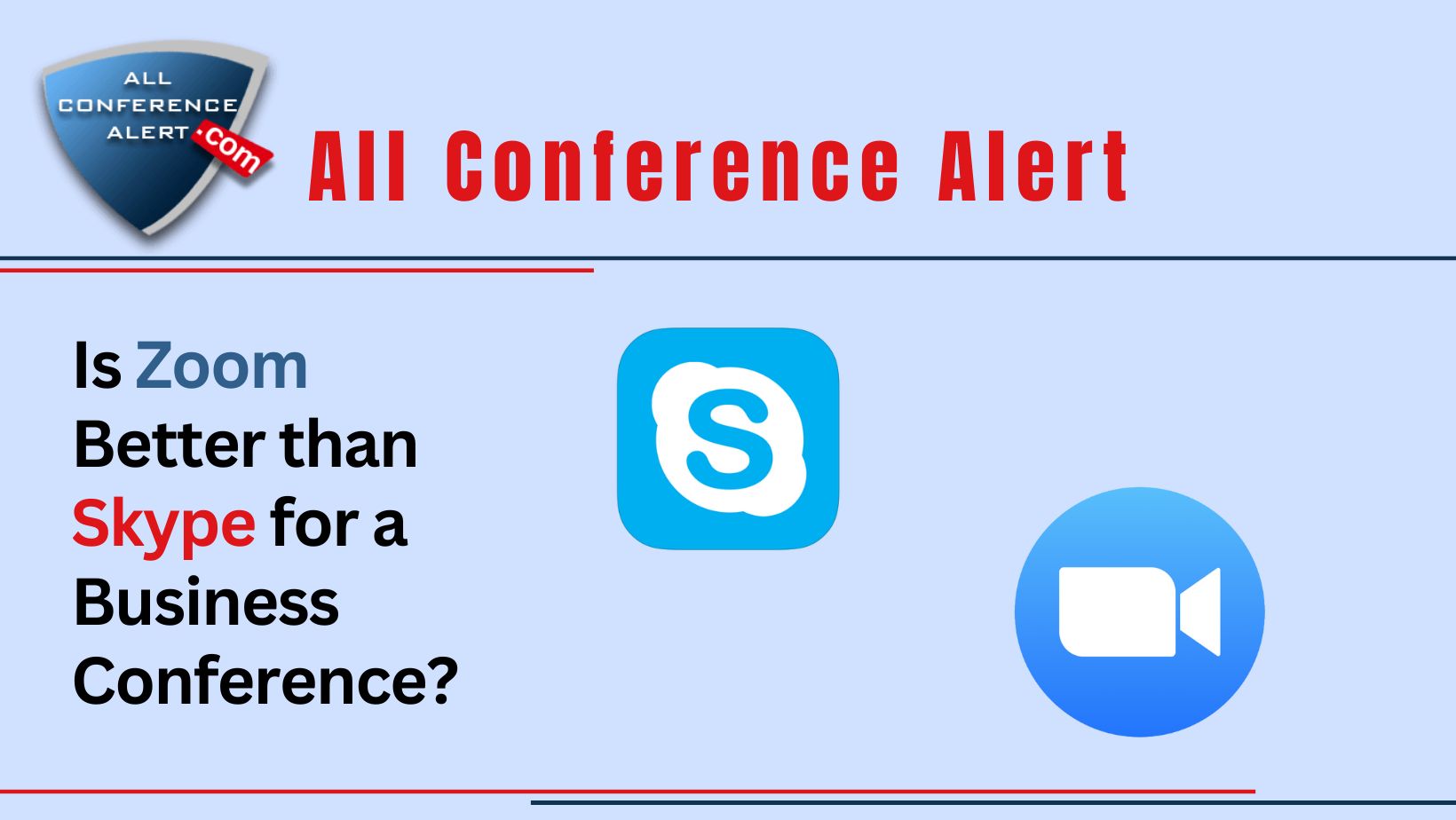 But which video conferencing software is the best for business conferences? There are many options available in the market, but two of the most popular ones are Zoom and Skype. Both of them offer free and paid plans, and both of them allow users to host and join video calls, share screens, chat, and record meetings. There are also significant differences between them that can affect the quality and effectiveness of your business conference.
Compare Zoom and Skype based on several criteria, such as features, pricing, security, reliability, and customer support. We will also explain why Zoom is generally considered to be the better option for larger meetings and offers more features than Skype. Finally, we will provide some tips on how to choose the right video conferencing software for your business needs.
Features
One of the main factors that distinguish Zoom from Skype is the number of features they offer. Zoom has more features than Skype, especially for business users who need advanced tools for collaboration and engagement.
Zoom Features:
Breakout Rooms: Zoom allows for the creation of breakout rooms, which is useful for dividing larger meetings into smaller groups for discussions or collaboration.
Host Controls: Zoom offers extensive controls for meeting hosts, including the ability to mute participants, control screen sharing, and manage the overall meeting environment.
Waiting Room: Zoom has a waiting room feature where participants wait until the host admits them to the meeting. This adds an extra layer of security.
Virtual Backgrounds: Zoom allows users to set virtual backgrounds, helping to maintain a professional appearance during meetings by hiding the physical background.
Recording: Zoom allows users to record meetings, which can be valuable for reviewing discussions or sharing with those who couldn't attend.
Webinar Hosting: Zoom offers webinar hosting features in addition to standard meetings, making it suitable for events with a large audience.
Skype Features:
Microsoft Integration: Skype is integrated with Microsoft products, including Microsoft 365. This integration can be advantageous for businesses already using Microsoft's suite of productivity tools.
Free Calling: Skype allows free calling between Skype users, which can be beneficial for businesses with remote teams or international contacts.
Instant Messaging: In addition to video and voice calls, Skype is also a messaging platform, allowing users to send text messages and files.
Background Blur: Skype introduced a background blur feature, allowing users to blur the background during video calls for a more focused appearance.
Screen Sharing: Both Zoom and Skype support screen sharing, but Skype's interface for this feature might be more straightforward for some users.
Skype Credit: Skype provides a pay-as-you-go option called Skype Credit for making calls to landlines and mobile phones outside the Skype network.
Pricing
Another factor that differentiates Zoom from Skype is the pricing. Both of them have free plans that allow users to host unlimited one-to-one meetings and group meetings up to a certain limit. Zoom's free plan has a 40-minute limit on group meetings with more than three participants. While Skype's free plan does not have any time limit on group meetings.
Security
Security is another important aspect to consider when choosing video conferencing software for business conferences. Both Zoom and Skype claim to provide secure and encrypted communication for their users. Both of them have also faced some security issues and controversies in the past.
Skype was also accused of having security flaws that could allow hackers to access user accounts and data. Skype also faced criticism for its cooperation with government agencies in providing user data without warrants or transparency. Skype has since updated its security measures and privacy practices.
Reliability
Reliability is another crucial factor to consider when choosing video conferencing software for business conferences. Both Zoom and Skype promise to provide high-quality video and audio calls with minimal latency and interruptions. However, both of them also depend on various factors that can affect their performance, such as internet speed, bandwidth, device compatibility, system updates, etc.
Zoom requires a minimum internet speed of 600kbps for one-to-one video calls and 1.5Mbps for group video calls. Skype requires a minimum internet speed of 300kbps for one-to-one video calls and 2Mbps for group video calls. Both of them also recommend using wired connections instead of wireless connections for better stability.
Both of them also have regular updates that can improve their performance and functionality. These updates can also cause some issues and bugs that can affect the user experience. For example, some users reported that Zoom's latest update caused audio problems and crashes. Some users also reported that Skype's latest update caused login issues and errors.
Customer Support
Customer support is another factor that can influence the user satisfaction and loyalty of video conferencing software. Both Zoom and Skype offer various channels and resources for customer support, such as online help centers, tickets, chat, phone, email, forums, blogs, etc. The quality and availability of customer support can vary depending on the plan and the issue.
For example, Zoom's customer support varies by plan. The free plan only offers online Zoom Help Center and tickets. The Pro plan adds chat support. The Business and Enterprise plans add phone support and dedicated customer success managers. Skype's customer support mainly consists of Skype Help (online), which provides articles, guides, FAQs, etc.
Both Zoom and Skype are great options for video conferencing, but Zoom is generally considered to be the better option for larger meetings and offers more features than Skype. Skype is better suited for personal use and offers a simpler interface.